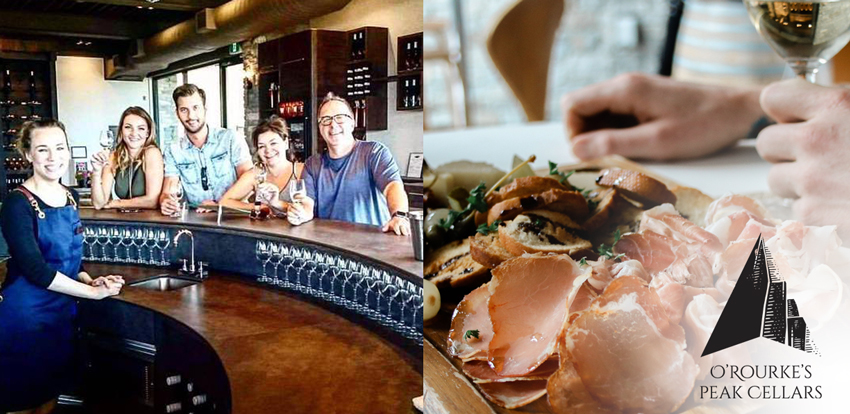 Cheers to the O'Rourke family!....
Rosé-all-day is in effect all fall though the weather is cooler. Pinot Noir Rosé pair perfectly with Thanksgiving turkey; so keep that in mind October 2019. This blend is elegant and dry, made from 100% Lake Country estate grown Pinot Noir. If you haven't tried it, think strawberry, raspberry and licorice notes… the palate is long reminding one of pomegranate and blood orange. It's natural, they add nothing. Neutral yeast strain ferments the Rosé preserving the Pinot Noir flavours. The scope of development will put them and Lake Country on the map as one of Canada's most prestigious wineries. Take in all there is to see and do at this winery even through the winter. Zip 'n Sip is a premier Okanagan Wine Festival event for 2019. See oyamazipline.com for event details and booking a tour.

For wine tasting, choose one of O'Rourke Peak Cellars' onsite guest experiences.  Tour the 1/2 acre garden, wander through the vineyard stopping to taste Pinot Gris amongst the Pinot Gris vines and then back to the winery for an educational tasting.

Some of the additions to O'Rourke Peak Cellars is a second location with incredible wine caves, an amphitheater, a new Lake Country restaurant, as well as an inn and lake house accommodation. Autumn 2019 continue to enjoy their Oceola Road winery and Garden Bistro. This is a year-round destination. Celebrated winemaker Nikki Callaway has joined the team at O'Rourke. She and Stephanie Stanley are a dream team. Nikki Callaway balance the all-star winemaking team. Nikki will be focusing on the O'Rourke Family Estate Wines, and Stephanie Stanley will be focusing on Peak Cellars with Adrian Baker in the role of director of winemaking.