Do your child's birthday party in an adventure play land...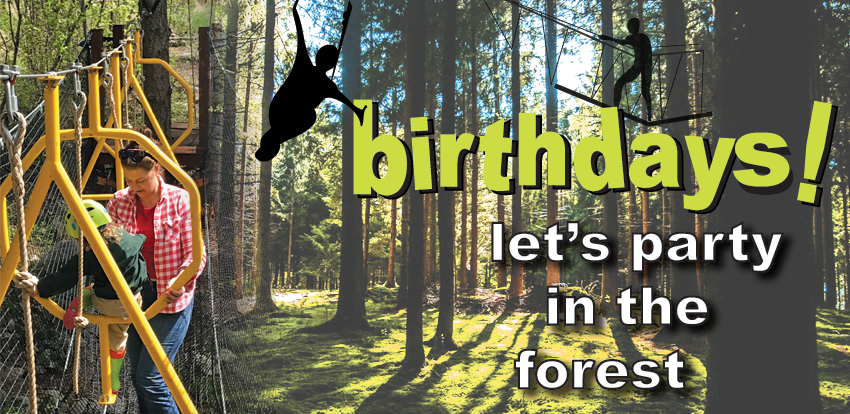 ...between Vernon and Kelowna. Plenty of activities and no hassles... sound like what you are looking for? Easy access from Vernon or Kelowna. Review all the perks of having an outdoor birthday party for children 3 - 11 years old. We will ensure your little monkey has the best banana-rama, tree-swinging time of their life. Last minute birthday plans can usually be accommodated as we have 72 acres of forested fun areas.

- Host your party at Oyama Zipline
- Free party invitations (download below)
- Min 6 - max 16 adults and children for a party
- Reserved Party Table for you and your guests
- Playtime in aerial obstacles
- Supervised by park guides
- Snacks available for purchase
- Party time: spend up to 2 hours here. To keep youth or adults busy and happy on the 3-level aerial course (with 6 zip lines) immediately adjacent (as is the 7 line premium zipline course). Those reaching a height of about 4'8" (5'11" handholds) can climb on the adult course as an upgrade to the children's playground.

Park near the Zipline reception and sign-in. Kids will gather at Oyama Zipline's Forest Monkey PlayPark and be supervised by a aerial park guide. The kids obstacle course is netted for maximum safety and the obstacles have easy and more skilled ways to navigate the circuit. Toddlers and tentative children can simply walk on the nets around the elevated course and learn about the forest. There are also activities on the ground such as a huge sand box, games, play structures and toys.

Active, athletic kids can challenge themselves by swinging on the ropes Tarzan style and racing around bounding rope bridges (or going to one of our adult parks). Parents can accompany their children or watch from close by. There is a reserved party table as well as plenty of shady Adirondack chairs and sunny spots for the adults to gather. This is a birthday party for your child with no hassle to you. You can relax in the forest and watch the kids burn off energy as they zip line independently and explore the obstacle courses. One children's aerial ropes circuit is netted and suitable for 3-11. Our larger obstacle courses suit children 4'8". Your group can use one of our playgrounds near Kelowna for up to two hours. Want your own children's party concierge? We'll help you with every aspect. You can even download the birthday invitations here.
Searching Availability...