Back to school contest… Win a day with your buddies...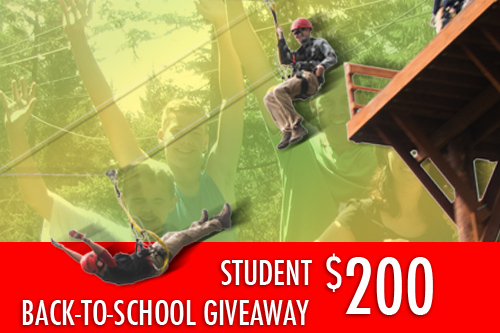 Aug 2019 Announcement: Indian summer is approaching. Students invited to enter for the adventure prize package worth over $200.

Are the kids hanging around home hoping to stretch out the summer school vacation as long as possible? Are you wondering how to keep the kids busy and active this summer? This might be the answer for enjoying August and September in the central Okanagan.
Student $200 Back-to-School Giveaway is a Back-to-School Draw!  $200 gc prize. Every student that brings 2 friends zip lining enters to win 6 passes to the Aerial Park. Zipline before Sept 10th. September 2019 draw and the odds of winning are fantastic for you local kids! Enter at Guest Services upon arrival!


Searching Availability...
The last days of August are warm in Kelowna. It's nice to enjoy the outdoors instead of preparing to go back to school. Teens are thinking about how to make some memories during the last days of summer. Hanging with just their buddies on last time before the back-to-school routines. Moms and dads are thinking about back-to-school supplies but kids need a day out with their buddies as a last hurrah to summer in the Okanagan. Some parents are wondering how to keep kids and teens busy.
If the day is cloudy or raining, what do you do in the Okanagan? Come to Oyama! The adventure park is a great place to hang out when beach days are over.