Tree Top Trekkers starts May 5th 2020 at Oyama Zipline Adventure Park's Forest Monkey Playland....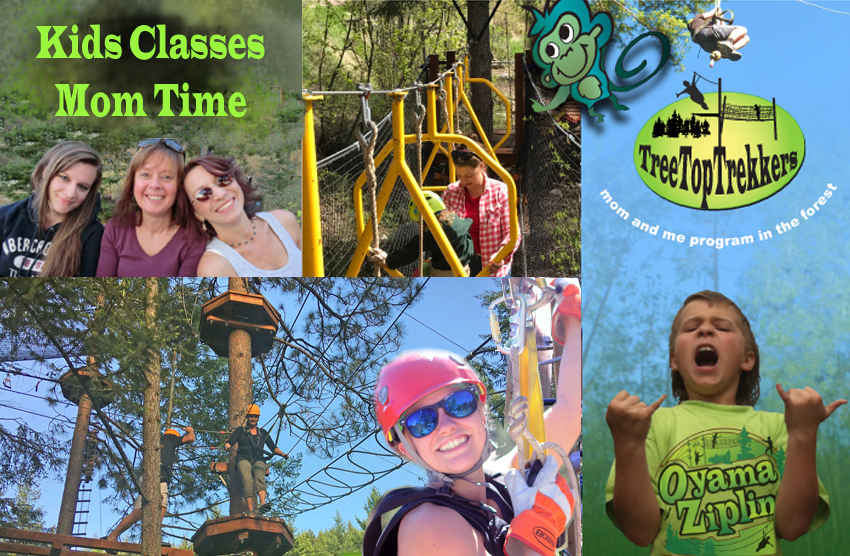 POSTPONED but please check back.
Tree Top Trekkers starts May 5th 2020 at Oyama Zipline Adventure Park's Forest Monkey Playland...

This four-week course includes physical educational, crafting and nature education for ages 4-8. Time in the netted aerial swinging bridges, zip line and obstacle course is supervised and the nature guides will lead projects, hikes and activities focused on learning more about nature and the environment. Join in May – continue with new curriculum every week. Both Tuesday and Friday will feature two classes; both days will include lots of fun in the forest. Pre-schoolers and home-schoolers will benefit.

Moms, Caregivers, Club Leaders: you have a choice regarding your level of involvement... so what's good for kids is also good for parents.  You can leave to do errands, stay and read in the sun, or join our adult aerial park challenges. Get together with other parents of pre-school and school age children for friendship in the forest. Relax in an adirondack chair in our park; or leave the premises – our program is supervised.  Another couple options:  you are invited to participate with your littles; or do a little fitness and work on that beach body.

The Cost
Over 8 hours of supervised kids nature classes is $120 per month (4 classes). Included at no cost is entrance to Forest Monkey Playland, the equipment, crafting supplies and lessons. Optional mom activities start at $25 (a deal so you can challenge yourself in our aerial obstacle courses).

Activities
The fresh air of the natural world is invigorating and offers endless opportunities for physical activity. In nature, its fun to create games with no prescribed sets of instructions. We engage young minds with topics such as animal habitat, recognizing and utilizing forest flora and fauna. Activities, lessons and crafts will be blended to engage children.

Emotional Benefits
Children can express themselves in ways that are often restricted indoors. In nature, children can shout, run, jump, climb, roll, and shout... all which reduce tension and anxiety. Nature enhances a sense of peace and often brings out nurturing qualities in children. Many energetic children slow down (especially after time in our aerial park) to spend focused time inventing games with natural objects. Several studies have found that exposure to nature can reduce symptoms of ADHD and anxiety.

Social Benefits
Meet like-minded families in the Lake Country area. Raise citizens who are passionate about protecting the environment and preserving our planet. Oyama's TreeTopTrekkers Program in the forest will give more opportunities to interact with new playmates. Let us help you raise children are healthier and good stewards of the earth.

Leaders
Our guides are trained and qualified to keep your children secure while spontaneously teaching the laws of nature and the benefits of the natural world.

The Facility
With the most diverse amusement rides plus a separate Aerial Park and Kids' Play Park; this tourist attraction is one of the best outdoor adventures in British Columbia. The team's superior customer service wins awards and kudos for community outreach and adventure park excellence. This spring program lets you enjoy the aerial parks at a fraction price high season prices.