Looking For Something To Do With Your Family?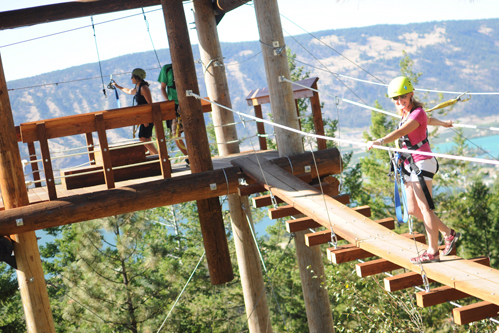 Oyama Zipline Adventure Park is a wild treetop adventure for the entire family stretching above 70 acres of forest. Make your way to the top – mellow parents can watch from below. Kids as young as 3 can play in Forest Monkey Playland. Kids about 8 years' old (depending on their height) can do the full-size Aerial Obstacles. Zig-zag thru the multi-faceted, multi-level challenge course. It is designed for all ages and abilities.
4 ATTRACTIONS TO CHOOSE FROM. Each child or adult finds fun or challenges that thrill them. Monkey Play Park is for 3-11 year olds and offers zip lines too – of course - it's what we do! Young kids can run, balance, swing and trek in (netted) trees separate from youth and adults. It's a perfect place to get wild! Most families with school-age kids can also try the Guided 7 Zipline Tour and/or the self-guided Aerial Park courses (6 new zip lines included). Because the Aerial Park is self-guided; this part of our expansion gives families a pricing option and also more choice of activities. In the Aerial Park, you progress at your own speed with 3 levels to explore. Fly among the platforms and do the big Tarzan swing. Test balance and bravery and do some agility training. Run (or relax by setting a slower pace) in the treetops for a couple hours then decide which of the exits you want to take... go to the ground and start again... or add a Free Fall Quick Jump to your tour.
Okanagan Bucketlist Challenge. The fourth attraction is our premium guided tour: 2.5hrs of zip lining our longest lines. This is tons of fun for those 50-270lbs looking for the best tour in the Okanagan.
Searching Availability...