Brave Smiles and Joyous Screams Make Memories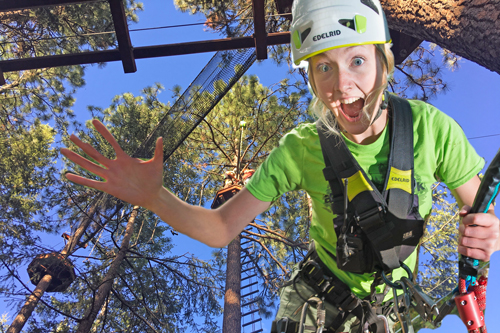 Win 1500' race heats and zip at up to 85km/hr. Oyama has the fastest rides and longest zip lines for all adrenaline junkies. Join friends for 2.5hr tours ziplining over 70 forested acres (more than 7000' of zip lines). 7 stations one-after-the-other ... the best thrill rides in the Okanagan! Thrilling at every station because there is so much diversity including side-by-side racing lines, swinging rope bridges, steep burma bridges and half-pipe slack lines  WORLD CLASS THRILLS  Different take-offs & landings: walk the plank and trapdoor starts… different types of rides because the slack in the line varies. Included: state-of-the-art harnesses freeing you to "just sit" or do stunts along the way.  THE ULTIMATE ADVENTURE  Choose the combo tour. After your Guided 7 Zipline Tour; try our Aerial Park! Climb, trek jump and zipline in the treetops. Try all 39 elements, swinging obstacles and six new zip lines. Oyama Zipline Adventures has more rides in one locale and the only full-size park. Stay an hour or the whole day. Over a dozen ziplines are complimented by a Tarzan Swing, Freefall Quick Jump and 30+ tree top obstacles. There are a couple requirements. You'll have to be able to reach the 5'11" over head hand holds. If you book the Aerial Park; the QJ is included (but you will have to brave through the full expert Black Course. Oyama Zipline Adventure Park is the Top Zipline & Aerial Park in the Okanagan Valley according to Trip Advisor and those that have visited. Try is soon. You may be able to get a time in the Aerial Park or a ride on the Freefall QuickJump last minute; but the premium Zipline Tour needs advance tickets because it is often fully booked every summer day. We highly recomm end you reserve in advance to not be disappointed.
Searching Availability...