Drive Around Lakes in Lake Country. Pack A Picnic Lunch.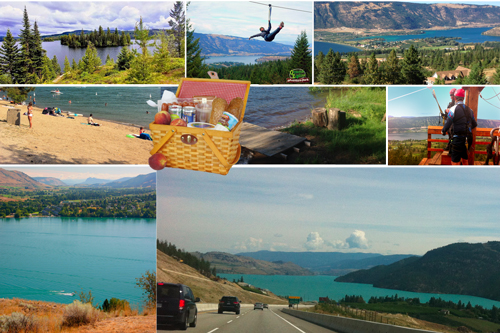 Leaving the Kelowna International Airport heading north, you'll first encounter Ellison (Duck)Lake. This area is popular for laid-back people who enjoy a rural life on the edge of Kelowna. Crossing into the beautiful District of Lake Country, day-trippers may choose to drive either side of Wood Lake. Agricultural land and eco-tourism attractions such as Oyama Zipline are on the east side of Wood Lake (just south of Kalamalka Lake). 9 kms up the hill is Oyama Lake Eco Lodge featuring rustic cabins and boat rentals. Explore 27 little islands on Oyama Lake. Please note that after km4 of Oyama Lake Road the road gets rough. Fishing and swimming are popular in these hills as are hiking and biking. Easier to access lakefront "city centre" Oyama.   Across from the beach you will find Oyama General Store / Liquor Outlet as well as OK Grill in case you forgot your picnic basket. Next door, Gatzke's Farm Markets makes a perfect stop for fresh fruit or ice cream treats.  THE BEST PLACE ON EARTH? (WE THINK SO)  Sparkling Hill's world-renewed spa and Predator Ridge Golf Resort are just down the road. After seeing this area (called the Commanage rangeland) you circle back towards Kelowna along Okanagan Lake via Carr's Landing.  PICNIC IN OYAMA  Take a scenic walk along Oyama Rd between Hwy 97 and Sawmill Rd. This beach stroll is approximately 2kms. Our authentic little beach town encompasses the agricultural land and shoreline of Wood Lake and Kalamalka Lake. Our guests can shop, do adrenaline sports and enjoy orchards tours, petting zoos & more. Visit Oyama Zipline Adventure Park where picnic tables are free. We invite you to make some memories in the Okanagan by booking a lake view Guided Zipline Tour. From spots on our towers you can view lakes simultaneously. Another place you can view many lakes at once is hiking Spion Kop (Dutch for 'lookout hill'). Soaring down the mountain on Oyama's side-by-side ziplines, you will overlook both Wood Lake and Kalamalka Lake.

There is no experience needed to enjoy zip lining. Book this scenic tour now.
Searching Availability...