Explore Rural Oyama BC and Find Big City Fun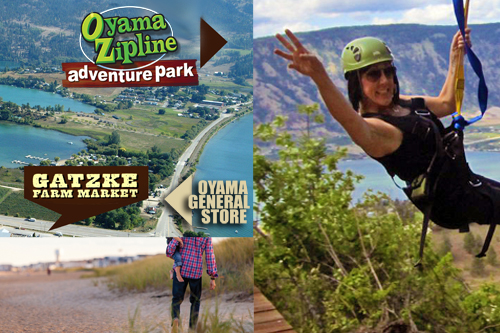 The aerial park or ziplines at Oyama can accommodate most kids over 8*. Forest Monkey Playland is for those under 11 and their parents. Guides are on hand to help and advise. While the kids are having good clean fun in an invigorating natural setting; what can parents do?
Here's some ideas:
The beaches at Oyama are only 5 minutes down the road. Laying in the sun or sitting under a tree reading sounds pretty awesome to most busy parents.
Have lunch by the lake. This region has a big assortment of quiet patios with awesome views. Choose to sit at OKF Grill; an easy-going place with outstanding creative food right on the beach.
Enjoy Turtle Bay, an iconic Lake Country location. The pub has stunning views to the marina, big screen tvs and a menu you're sure to enjoy.
Do some shopping. Head to downtown Lake Country to do your grocery shopping or run business errands (18 minutes away) or simply pop down to Oyama centre where there is an assortment of stores along the beachfront. Farm markets, liquor, Canada Post, and a library are complimented by an impressive ladies boutique. Tina Louise Dress Studio specializing in elegant designer dresses. With international designer collections in a comfortable and relaxing environment, you are sure to find a unique outfit for your holidays.
CHECK WHAT STORES / AMENITIES ARE OFFERED IN LAKE COUNTRY BC.

*Aerial Park has a height restriction: everyone has to be able to reach the 5'11" hand-holds. The Guided Zipline Tour has weight restrictions: only those 50 - 270 lbs can participate.


Searching Availability...