Let The Kids Play Like Monkeys: Aerial Park For Ages 3-11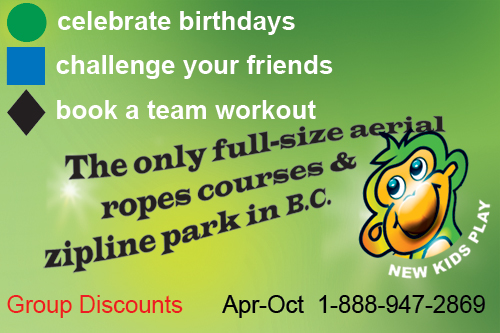 A perfect spot for playmates to gather and party. They'll learn new skills and get a workout in fresh mountain air. We'll do all the work while you relax. Oyama Zipline offers a birthday party area and netted adventure course allowing tots and school-age children to zipline alone. Bring them to the forest for unplugged play that fuels the imagination. Little Monkey Play Park is a child and pre-teen adventure area providing a place to burn some energy and learn new skills. There are netted bridges, climbing obstacles, zippiness and various rope rides that are just the right size for kids to explore alone. Choose to remain nearby and shout encouragement from the paths below. Or do the fun activity with your children. Chaperones can play with their kids in the netted structure (no charge)... but it is constructed for children (under 4 ft).  One of you can stay with the kids while the rest of your group finds more exhilarating activities at the Adventure Park.

Babies / tots 0-3 joining the older kids and parents/grandparents/teachers have an adjacent meeting and play area to use free of charge while waiting for others in the group. Chaperones can relax in a adirondack chair in the forest setting while the Little Monkeys try all the elements in the Kids' Play Park. Toddlers and grandparents may wish to spend time together in the picnic area. Without the hustle and bustle of busy life, sit back and relax. Enjoy the forest and pre-school level play; the outdoors abounds with discoveries for growing minds. This area has no fee. Adjacent are adventure courses with something for every age and ability.

This new netted aerial play area is a perfect venue for children's birthday parties, group events, and school field trips. Whether your are a child; or kid at heart… Oyama is the place to meet friends.
Searching Availability...