Ground School, Aerial Obstacles and Parkour Experience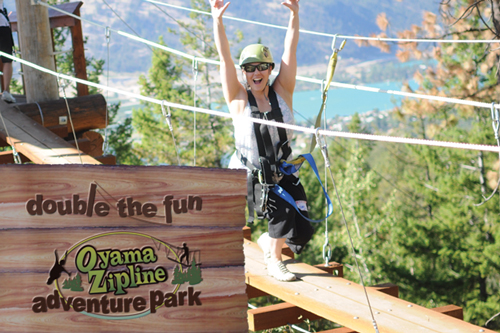 Our Full-size Aerial Park (aka high ropes courses) include 6 zip lines and 3 levels from 3m - 20m after ground school. Dozens of suspended surprises become more challenging the higher you get. Stick with it and learn as you go. Low, medium and high platforms are secured in the trees. Participants explore series of obstacles including tightropes, swinging logs, wobbly bridges, and cargo nets plus ziplines and a Tarzan swing. It's what to do when looking for an inexpensive and healthy outing. ALL AGES AND ABILITIES  Amazingly fun! Clip-in, participate in ground school, then progress to higher and more difficult obstacles but only when you are ready. Explore at your own speed and take your time. Practice on the low Green Course then traverse high in the trees. TAKE FAMILY FUN TO A HIGHER LEVEL  More daring adventurers progress to the Black Course (our equipment allows passing) and practise parkour in the trees. End your day with the Freefall Quickjump! Those looking for fitness visit often, testing strength, stamina, agility, balance and flexibility in the tree canopy. Our season's pass becomes a very affordable way to "sign your kid up" for an exercise class that gives you the freedom of fitting it in your schedule when it is most convenient (as opposed to a scheduled class).  Plus, you can come multiple times in a week to make up for the weeks you are away for your own summer holiday - no make-up class restrictions!

Plan a 3 hour trip. Height restriction applies. Everyone must be able to reach a height of 5'11" which most students 4'8" & up can do. If your child is not yet this height, check out our Little Monkey Play Park for ages 3 - 11.


Searching Availability...