June 17, 2018 is the day we celebrate Dads.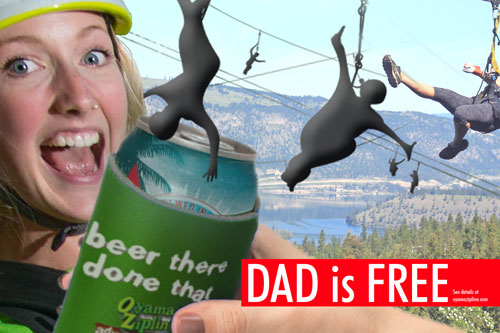 Come up to Oyama Zipline Adventure Park Sunday between 9:00am to 4:00pm. Bone Yard BBQ and Grilling Co. food truck is on-site for early and late lunches and there is free beer and gifts for dads. Every father that brings 3 or more to celebrate with him will receive a free Premium 7 Zipline Tour. Same deal with the Aerial high ropes course (only $29.25 each). The Madsen family operates the Adventure Park together and they are honouring Peter's devotion to his children Erik, Sabrina and Nicolas. Peter likes to be out in the fresh air especially to do recreational activities. He likes a 'cold one' after activity and is a fan of homestyle BBQ meals. All day Sunday we will be celebrating Father's Day in this fashion! Dads, their friends and their family are invited to spend a few hours at the adventure park between Kelowna and Vernon. Best tip: come for the 10am tour and stay for the lunch… or come up and hang out at the grill with the Bone Yard BBQ team and zipline guides when you are reserved on an afternoon tour. The fresh air, fresh food and fantastic views over the valley are worth the drive. Maybe spend some time at one of the beaches in Oyama or check out the Okanagan Rail Trail while there. Bring bikes if you are so inclined. So many fun activities.

Dad zips free of charge when booked in with 3 other people (adults or kids)! Dad can try the Aerial Park free of charge when booked in with 3 other people (adults or kids). If there is one or two booked with a father; dad will be able to go for half price. Toggle between 'Guided Zipline Tours' and 'Aerial Course w ziplines" below to see all the pricing and tour times.
Searching Availability...