2011 prices this weekend @ Oyama Zipline's Birthday, Sunday, June 24th, 2018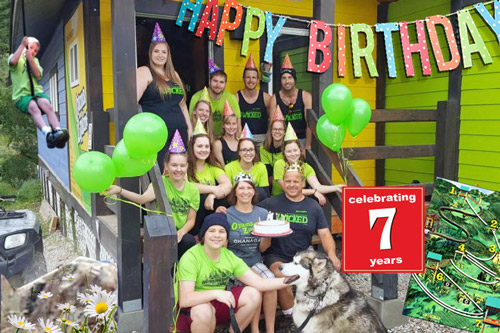 Free BBQ. Half Price Seasons Passes. You gotta come up to get those deals. Guest services will sell you a half price one year pass onsite (only 87.50 until June 25).  June 24th, 2018 the park will be decked out in party decorations and staff will be in costume. Share our 7th birthday cake. Family activities such as face painting, maze challenge, human fooseball, and toss games complimentary. Perhaps celebrate the Adventure Park's birthday#7 by riding all 7 zip lines. Discounts also online for the Aerial Parks. Book Soon. Click both 'blue' titles below to see all our specials.
Searching Availability...
There's a chance at free tickets to come back too. Any person in costume receives a free pass to one of the Aerial Parks. Try them all!
$15 Monkey Park Admission
$25 Aerial Obstacles including 6 zip lines
Zipline 2011 Price Rollback! Adult or Child only $79